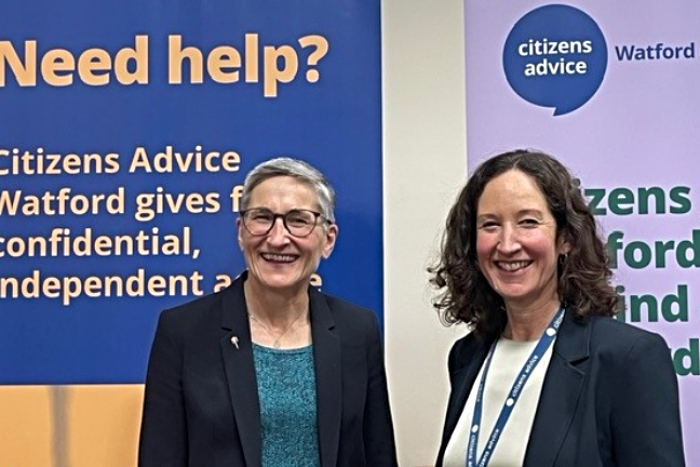 Citizens Advice Watford thank Dame Clare Moriarty and community partners for attending their AGM
Citizens Advice Watford were honoured to be joined by community partners at their AGM on Friday 9th December, and by guest speaker, Dame Clare Moriarty, Chief Executive of Citizens Advice. 
Dame Clare joined Citizens Advice in April 2001, taking the lead at a crucial time when the organisation was supporting people during the pandemic, and then on into the current Cost of Living crisis. Before joining Citizens Advice, Clare had an eminent career 35-year career in the Civil Service, culminating in serving as Permanent Secretary of the Department for Environment, Food and Rural Affairs, and thereafter as Permanent Secretary of the Department for Exiting the European Union.    
Since joining Citizens Advice, Dame Clare has had a high public profile, frequently invited to speak about the impact of the Cost-of-Living crisis on the people the service is helping across the country, and to share her insights on future policy direction.   
Dame Clare spoke about the vital work Citizens Advice services are doing on the front line across the county. Powerful case studies illustrated the impact Citizens Advice Watford has had on individual lives in Watford, and Emma Burgham, Chief Officer, detailed both the breadth and depth of the charity's work for the town over the last year, and thanked their large team of volunteers for their outstanding dedication and commitment.  
On behalf of Watford Council, Jenny Pattison, Councillor, thanked Citizens Advice Watford for their service to the community.