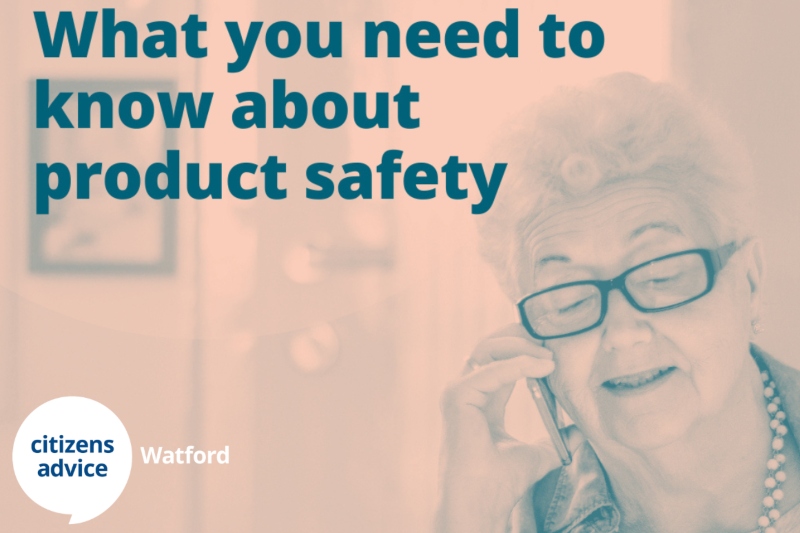 Here's what you need to know if you've bought something unsafe.
Sometimes we get less than we bargained for, and no matter how careful we are things can go wrong. Unsafe products can be dangerous so here's what to look out for when shopping, and what you need to know if something you've bought is unsafe…
What to look out for when shopping
Think carefully about who and where you're buying from, especially if it's online. If you buy something from a seller based outside the UK it might not be manufactured or labelled in accordance with our safety laws.
Take a look at the product you've bought. Does it have safety markings? Are the instructions clear? Do you have the name and address of the manufacturer? If not, these can be warning signs.
Some products need to have markings to be sold in the UK. This is a statement from the manufacturer showing that the product meets specific safety, health and environmental requirements. It can be on things like toys, electrical goods and gas appliances. Products sold in Great Britain may display:
• CE marking
• UKCA marking
• UKCA marking and CE marking
• UKNI marking and CE marking
Be careful when buying things second-hand or from an online marketplace. There's no legal requirement for online marketplaces to check the safety of products being sold on the platforms. ​Even if an item is secondhand, it should still be 'fit for purpose' and 'as described' but it's important to know what to look out for and how to report unsafe items.
What to do if something you've bought is unsafe
Businesses that make, import, distribute or sell consumer products in the UK are all responsible for their safety. If a manufacturer discovers that a product it's sold has a safety risk, it must address the issue.
This could include sending out new instructions, or telling people to stop using the product and return it for a refund. The manufacturer must contact everyone who they know is affected to alert them and tell them what they should do. You can find out about new recalls by checking the list of the latest consumer product recalls.
If you think a product is unsafe and could harm people, you should stop using it as soon as possible. You can contact our consumer service for help, they will notify your local trading standards which may contact you for more information.
You may be entitled to a refund, a replacement or a repair if there is a safety issue with a product you own, but not if you have damaged or misused it.
If an item causes damage to your property you might be able to claim compensation. For example, you may be able to claim compensation if your washing machine starts leaking and damages your kitchen floor. Our online advice can help.
If you need more advice or help, visit our consumer advice pages for more support. You can also contact our consumer service on 0808 223 1133 (Mon-Fri 9am to 5pm). For more information on product safety you can visit gov.uk.
Blog by Cara Lewis, Citizens Advice